Dance to life at Caracalla!
On: June 19, 2015
There's a different kind of uplifting energy when summer  times are around the corner. The sun dances high in the sky, we  dream of touching its golden rays, we smell the heat, feel the beat, and move to rhythm with our feet
'Dance like no one is watching…'
'Take more chances, dance more dances"
"We should consider every day lost on which we have not danced at least once."
In the circle of life, we dance. We dance for love, we dance for life, we dance for winter days that are gone, and we dance for the hopes of summer nights. There's a different kind of magic when it comes to dancing… and we are granted numerous gifts… so that we give away the utmost of every single piece of us.
Dancing is love
Dancing expresses love in all its aspects. It holds in it the basic steps of each and every instinctive emotion. Joy, fear, sadness, and anger… all fall into one. One soul, one heart, one body, one mind.
Dancing is energy
It is the expression of being alive. The desire to move forward and the time to let go.The freedom of the body, the explosion of the soul, the passion coming to life.
Dancing is health
Scientifically speaking, there is no doubt that dancing is the perfect exercise that liberates your soul. Dancing benefits your feet, your legs, your back, your heart, your mind, your lungs, your joints, your spine, your entire YOU.
Dancing is discipline
'Be like a ballet dancer, have discipline,' once stated Audrey Hepburn. A dancer goes beyond one's own limits. A dancer competes not with others but with oneself. A dancer is a perfectionist. Dancers aim to become the best version of themselves.
Dancing is life
This sums it up… Dancing celebrates not only the summer season, but all the seasons of life. It's an ode to winter, spring, summer, and autumn… the endless circle of life!
Now that the sun is high… aim high check out Caracalla's summer program and find the class that best reflects your inner self. Let it all out, and, like the sun of summer days, just shine on and reach the skies.
Caracalla Dance School is offering you a variety of unique classes to choose from
find our class descriptions below
Our Teachers
SUMMER DANCE CAMP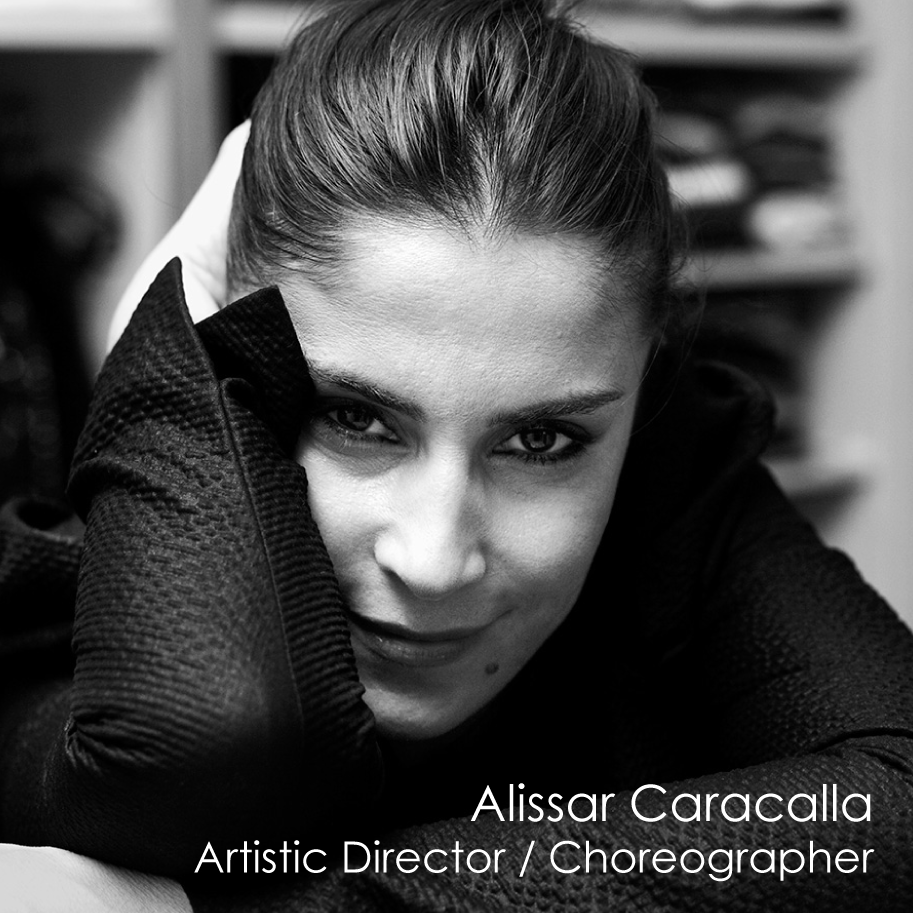 Our summer dance program is a signature program unique at Caracalla dance school offering students the opportunity to dance throughout the holidays. Dance camp is an exciting 6 weeks programheld twice a week forstudents aged8 to 12-year-olds.
Students will explore and learn various dance techniques such as Ballet, Style Caracalla, Jazz& Hip-Hop. This is a fun opportunity for students to be active and creative during summer while making new friends and exploring the world of dance! Healthy snacks are made available during dance camp.
Classical ballet // As the ABC of dancing and foundation of all dance types, classical ballet is strongly recommended as a prerequisite to all classes for students who are looking to improve both technically and artistically.
Style Caracalla // Created by Maestro Abdel Halim Caracalla, this style of dance is an amalgam of western disciplines of modern dance with oriental identity. This is the signature style of the Caracalla Dance Theatre – a beautiful and unique dance expression that is both fluid and energetic in its graceful art form. Members of the Caracalla dance company teach this class solely at our institution.
Funky Jazz // Welcome to the most popular class at Caracalla dance school! Funky Jazz is a sub-genre of Jazz characterized by stylized moves. The integration of funk, soul and R&B music results in the creation of this dance genre's wide and creative style spectrum, which ranges from technical jazz moves to soul, funk, lyrical or disco. Dances are performed to the latest mainstream music hits.
Hip-Hop // This dance refers to street dance styles primarily performed to hip-hop music or music that has evolved as influenced by hip-hop culture. It includes a wide range of styles – primarily breaking, locking and popping. This class is very active and energetic and is taught to the latest international music hits. Get ready to sweat and feel the groove!
Creative Dance for children // CDC explores all styles of dance via a playful approach conducted in a creative environment. Youngsters are educated on the basic ballet guidelines and are taught proper stretching techniques. They are also instructed in simple dance choreographies to various rhythms of music, so that they are exposed to a variety of styles such as Jazz, Style Caracalla, Hip-Hop and musical dance.
Floor-Barre // This class strengthens, stabilizes and shapes the body. It is recommended to all those who wish to improve their dance skills, have a better understanding of the body's anatomy, get into better shape, or return to dance after an injury / long pause. Floor-Barre uses the assistance of props to strengthen and lengthen the back, legs and core to provide a great toning exercise for the entire body.
Contemporary Modern // Contemporary Modern dance is a free style of expressive dancing that combines elements of several genres including modern, jazz, lyrical and classical ballet. It is a popular form of dance that has grown to become one of the dominating performance genres for formally trained dancers. In terms of its technique focus, contemporary dance tends to utilize both the strong and controlled legwork of ballet combined with contact-release, floor work, fall and recovery, and improvisation.
Yoga // Yoga is a physical, mental and spiritual discipline. The practice of yoga has many benefits such as increased flexibility and strength, body awareness, better posture, a calmer and quiet mind, increased energy and balanced mood. We guarantee that yoga will work for you! Check out our schedule as we offer various styles of yoga such as Vinyasa-Flow, Power Yoga, Hatha Yoga and Bikram Yoga.
Our dance classes will transform you! We guarantee great fun and memorable moments, self-reconnection, self-confidence, education, improved skills and all that's beyond!
Be part of the Caracalla Dance School family, we promise you'll never want to stop dancing!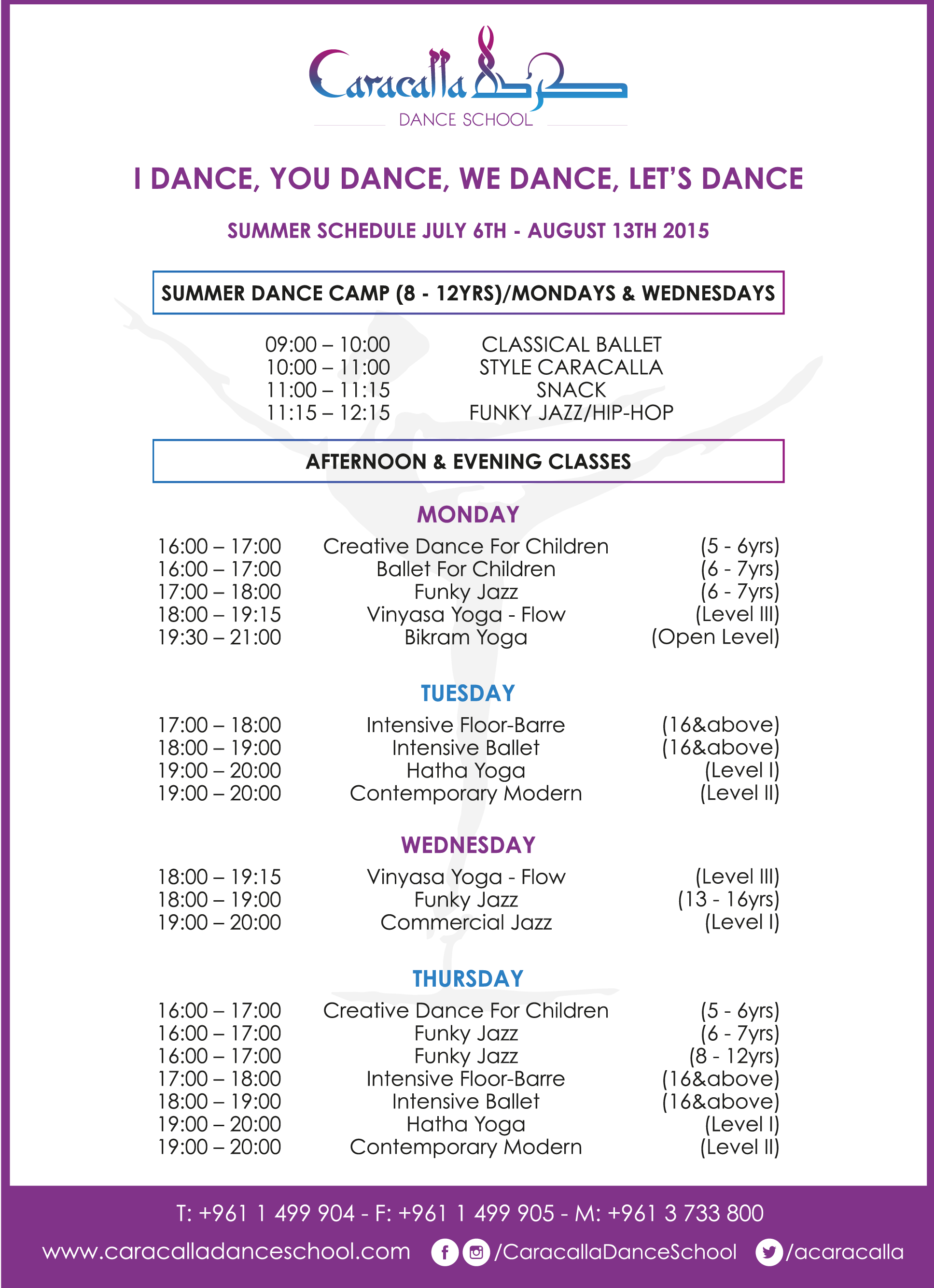 You Might Also Like
0 comments