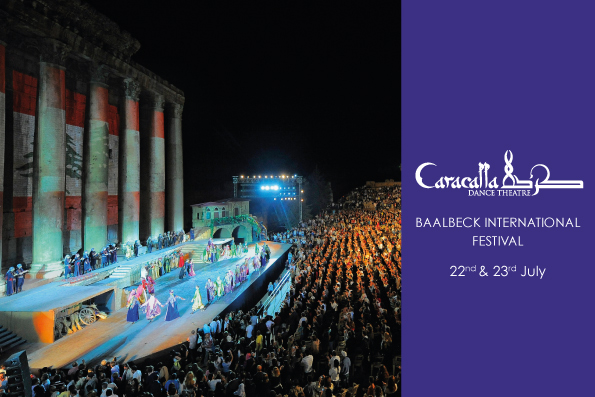 CARACALLA DANCE THEATRE AT BAALBECK INTERNATIONAL FESTIVAL
On: June 20, 2016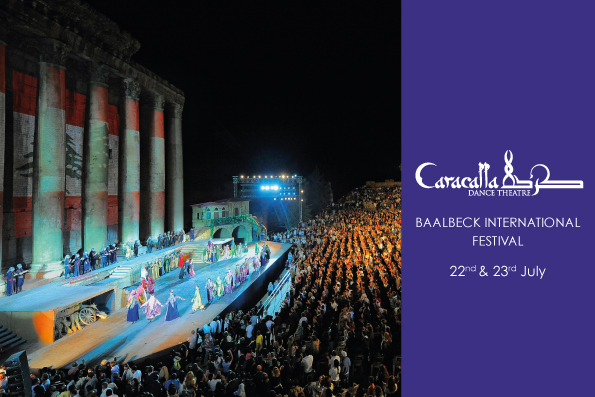 The Baalbeck International Festival is the oldest and most prestigious cultural event in the Middle East with a history that spans six decades.
The Festival was launched in 1956 when the President of the Lebanese Republic, Camille Chamoun, announced its creation. Initially the Festival was an official government institution managed by people on a mission to promote culture and tourism in Lebanon.
The Festival became an annual highlight on the calendar every summer, gaining an international reputation and attracting big names on the music, theatre and dance scenes.
Amidst the magnificent ruins of the temples of Bacchus and Jupiter, The Baalbeck International Festival has enchanted generations with world class plays, Lebanese nights, operas, music concerts (classical music, pop, jazz and more), as well as modern, classical and folkloric dance.
Caracalla Dance Theatre has always played a unique role at the festival creating performances that encompass the soul and heart of dance at an International level, incorporating the rich cultural Lebanese Folklore infused with modern dance, rich costumes, mind-blowing projection and music that transports the audience to a time travelled era to the temples of Jupiter and Bacchus.
This year a special performance has been created to celebrate 60 Years of the Festival; The Caracalla family has created a show inspired by the journey of the Silk Road. This production embodies cultural diversity among peoples in the realm of love and peace, as "one human being and one world". Over a 150 performers, dancers, singers and actors will meet at the temple of Bacchus to transport the audience from this time and place to the 15th century. Caracalla dance theatre has invited dancers from China, India, artist from Iran to be part of this ballet and we are always proud to incorporate our young talented dance students from Caracalla Dance School, the future generation that plays a significant role in representing the youthful hope and talent of Lebanon. #LiveLoveLebanon
You Might Also Like
0 comments