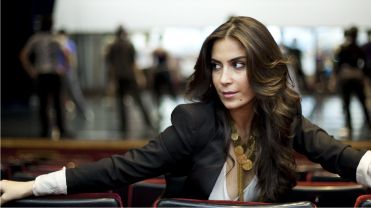 Alissar Caracalla
On: July 3, 2015
These were three days of emotional awe as I watched the students at Caracalla Dance School perform in the End of Year Shows; it was an unusual surprise this year as suddenly all these young students I have seen and known for years – some more than others – suddenly came out of their cocoon.
It was not about getting older, it was the sudden talent that finally appeared after years of work; I was stunned, touched, proud, and mostly admirable of the Youth.
We have so much beauty and talent in Lebanon, yet our country always finds a way to choke it. But the thing about talent is that it can't be contained; it always finds a way to explode out of the cage.
Our story began with Abdel Halim Caracalla, my father, who founded the Caracalla Dance Theatre, which evolved into the leading dance company based out of the Middle East. Starting as a small studio, the Caracalla Dance School was founded together with the main company under very humble conditions. Classes were taught by A.H Caracalla based upon the Martha Graham dance disciplines of modern technique, and were uniquely blended with nuances of Arabic heritage.
When I decided to continue the path of the dance school, I never imagined that this humble school would turn into a student body of over 1,000 students; but the success of the school was prominent because of Caracalla Dance Theatre's strong foundation. We are honest about our art form, and we believe in the passion that drives each artist.
This passion… this message was conveyed from my father to me, from me to the teachers and in turn to the students who are now the disciples of Caracalla.
I walk around the school and see faces, Joyce, Cherine, Thelma, Yara and on and on… Faces that are starting to change as time seems to fly; time is quick, time leaps, time twirls and dances around us in life, and I realize how strongly rooted Caracalla Dance Theatre/School like beautiful tree so deeply rooted and growing more beautiful every year, branching out with new leaves, colors, forms, shadows, poetry, dance, and talents.
Thank you students for your discipline, energy, passion and determination.
Thank you teachers for all the efforts you put into teaching and creating; I know it takes a LOT of effort and I understand you all.
Thank you administrators and staff; without you it cannot happen.
And mostly thank you Caracalla, maestro, dear father, for creating what the Arab world recognizes as dance. You are my idol.
I sit in the school cafeteria, writing this small note. It's a day off at the school; nobody is here, the silence is deafening, the hallways are quiet and empty except for the souls and shadows that bounce around our hallways, studios and stage. The laughter of our students remains an aroma dancing around our home, CDS Caracalla Dance School.
Until next Year's end of year shows. People call it dance, we call it LIFE!
0 comments